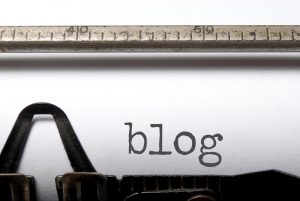 So no doubt you've heard the term "blog" and you want to know what blogs are all about. This article will not only explain what a blog is but it will also tell you why it is such a powerful marketing tool for your business and how to create killer blog content.
A blog is a frequently updated online personal or business journal or diary. It is a place for you or your business to express your thoughts to the world. As a communication tool, a blog can be anything you want it to be.
Here are five characteristics of a blog and why it is essential for your business:
1. Articles are listed in chronological order with the newest article at the top
This is the most consistent element of almost every blog out there. Articles are listed with a title followed by the body content, starting at the top of the page with the most recently published article followed by the next most recent and so on.
This format was chosen back in the early days of blogging when it was mainly journalists who used blogs. The term blog is derived from 'weblog', which essentially means an online diary or journal. Diaries have entries made by date and that is how blogs work too.
Although the format is traditionally the same, the role of the blog is not really used as an online diary these days. Most business owners use it as a way to keep their clients and customers informed of what is happening within their business and niche. They are very powerful marketing tools.
2. It is easy to add new content
For many people editing their 'normal' website is quite difficult. Websites are seen as being very technical and the average business owner is generally afraid to go on to the site to make any changes in case they mess it up.
Blogs changed that. They provide a content publishing system that is so easy to use that the average web user and small business owner can become a blogger and add new content with ease. The technical barriers were removed allowing millions of small business owners to create blogs relating to their business.
3. Content is updated frequently
Another major problem that plagues many traditional websites is that they remain static and stale. Most websites never change and you can come back to the same pages with the same content. A lot of business owners either don't realize that they need to update their website often, or they don't have the technical skills or resources to get it changed.
Blogging changed that, so even a person with minimal technical skills can easily log into their blog and add fresh new content.
This has helped them to have terrific results in the search engines, especially on sites like Google. Google rewards sites that publish valuable content on a consistent basis. Blogs, by their very nature, do this, assuming motivated bloggers are running them and are consistently adding new content. As a result, business owners see their sites rise high up in the search engines bringing new traffic and most importantly, new customers.
4. Blogs allow people to leave comments
This is one of the most valuable features of a blog. Below every blog post is a comments box that allows any person from the public to leave a comment on the article.
This enhancement turned websites from one-way broadcasting devices, to two-way communication tools. Readers can directly communicate with you, the author of the content, carry on the conversation started by the article and essentially turn a blog into a community.
This last point is more powerful than you think and this is the reason why:
5. People trust blogs more than normal websites because blogging is a conversation.
If you combine all of the elements above, the personal style of writing, the ease of adding content leading to frequent updates, and the ability to interact with your readers, you have the winning formula for a very natural communication tool.
Blogs, by their very nature, are considered trusted sources of information and the blogger is generally perceived as a respected expert, whether they are or not, purely on the back of their successful blogs.
Again, this subtle element is significant and distinguishes blogs from normal websites. If people trust the words written on a blog, if they like and identify with the person writing the blog, then you have all of the elements necessary to create a popular community focused around your business.
That is why any small business can become extremely successful with a blog. They can quickly build a loyal audience, keep people coming back and ultimately monetize that traffic.
How Blogs Make Money
Print magazines make money by selling advertising. The larger their circulation, the more influence they exert over people, and the demographics of their readers dictate how much money they make.
Blogs are essentially the same. The more traffic (circulation) you have, the type and quality of that traffic (reader demographics) and the influence you have over your audience, determines your profitability.
This is why businesses love blogs and are so committed to driving traffic to them. The more readers you have, the more money you can make.
How to Attract attention to your blog?
The first way to attract attention (traffic) to your blog is to write good content. This is the foundation that your blog needs to be built upon.
The other key ingredient is marketing. You need to be able to set up a professional marketing campaign so that people can find your content.
First let us deal with the content side of things and then we will discuss the marketing aspect.
Content
How to Write a Killer Blog Post
Once your blog is set up, it is time to get going on your first killer blog post. It needs to be an article that your readers will really respond to. If you post a fantastic and compelling blog article, it usually means more traffic, more comments, more pins on Pinterest, more tweets, and more Facebook shares, all of which will help grow your blog. But what makes a killer blog post?
A killer blog post:
Makes a clear point. A killer blog post always has a clear and succinct message that can be boiled down to one short sentence. If you, the author, aren't able to summarize your point, how will the reader be expected to follow your logic? Always write with the point in mind. If you have multiple points it would be better to split the article into two posts.
Provokes an emotional response. The posts that people remember (and share) are the ones that make them feel a certain way, whether that be happy or angry or encouraged or inspired. This means they usually take a stand one way or another. Neutral might seem safe, but it is boring and forgettable. Your aim is to make people think and react. You want to provoke some kind of response from them.
Is easy to read. Blog posts should be clear and concise. Statistics show that blog readers tend to skim articles, especially if they appear long. So use short paragraphs, headers, and bullet points. Make sure that you write in a conversational manner, but proper grammar and spelling is essential. Readers won't forgive sloppy writing and grammatical mistakes.
Teaches a simple lesson. Whether your post is a DIY tutorial showing how to make something, a recipe, or some other helpful tip, the best blog posts stick to one clear and easy-to-follow lesson. This is not to say you can't do complicated projects or recipes, but in general, the projects with the best response will be the simplest of the bunch. These tend to get shared more on social media too.
Creates controversy. Killer blog posts don't sit on the fence. They take a stand and force the reader to react one way or another. The stronger the stance, the more intense the reaction will be. Of course don't be controversial just for the sake of stirring up controversy! Readers can sniff inauthenticity a mile away. If there is a particular topic you truly feel strongly about, don't try to come off as neutral. Neutral is boring. Just be prepared for people to disagree with you. You will find that your community will come alive and more people will visit your site when they see people commenting on your site.
Is visually appealing. Killer blog posts have killer images to go with them. This is not only important for recipes and DIY, but with the advent of Pinterest, for ALL articles. You might have written a fantastic article but if you don't have images your readers won't be able to 'pin' anything. You need to make it as easy as possible to be able to share your content, especially on social media.
Is not overly complicated. Don't use large words or pad it with a 100 words when only one simple word will do. Nobody is going to be impressed if you are using big words just to look clever. Write in layman terms. Make sure that everybody who visits your blog knows exactly what you are talking about.
Makes you say WOW. This is the awesome factor again. Whatever you share, whether it is a recipe, a party, an idea, or a project, should be so compelling that your reader can't help but stop whatever they are doing and pay attention. If it's not great, don't bother. You are better off sharing one WOW post a month than twenty forgettable ones. Again, the more impressed people are with your blog post, the more they will want to share it on social media.
Empowers the reader. A killer blog post isn't about YOU or what you've done or created or cooked. Yes, you may be sharing something you've done, but the best blog posts do it only in a way that makes the reader feel that THEY could do it too, offering clear tips and helpful instruction. They want to come away from your blog informed and feeling that they have learnt something new.
Is unique and interesting. A killer blog post has something new to say. It presents a unique viewpoint or an interesting perspective. It gives readers a different way of looking at a problem that perhaps they hadn't considered before. It is fresh and sharp.
Keep in mind that not all of these tips must or even should be used in one post, but generally the more of them that you can hit, the better off you will be. So now that we have discussed how to create great content, lets discuss marketing.
Marketing your blog
Once you have your content in place and you have plans to release a continuous flow of content, the next step is to attract people to your blog so that you can show them how amazing it is. This is where marketing is crucial.
You could try and do it yourself, but if you are already running a busy offline business, you will probably find the whole process of online marketing daunting.
This is where we can help you. Not only will we be able to drive traffic to your blog with a tailored marketing campaign, but we can even create the content that will keep customers and visitors coming back for more. We are excited to show you how we can help your business grow by setting up a blog and then drive targeted traffic directly to your website, resulting in more sales and leads for your business. Contact us today. We are looking forward to hearing from you and showing you many more possibilities to growing your business successfully.
To Your Success!
---
---
---
---